Little about us: (Skrolla ner för svensk version)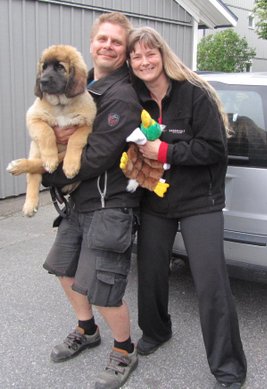 Our Name's are Ingela and Robert Westphal and we are + 50 of age.
We live in a small country community called Sandared just outside the city Borås.
We have two grown up children, Alexandra and Jack. Both of them moved to their own places and we also have two lovely grandchildren Saga and Love.
Both me and Robert, have grown up with German Sheperds, so dogs have been in our lives since early childhood. 1983 we got our first dog of our own and he was a German sheperd/Boxer mix called Faxe.
During the years that passed since then, we have had several pure breed German sheperds.
I, Ingela, was a part of a dog trainingclub in my community and I went to different courses with our dogs, but above all, we went for long walks in the forest. When we eventually got children, there was not much time left for more than beautiful forest walk's during the infancy. Nowadays, I'm BPH testleader, Puppy instructor and a boardmember of the Swedish Leonberger club and I also blood tracks a lot with our own dogs and of course we also travel to some dog shows, mainly in Sweden but also abroad.
Robert is a dog owner who appreciates the good life with the dogs at home and does not think it's so fun to go on dog shows and other activities around and outside sweden, so most of the time I travel alone or with a friend.
Leonberger:
Occasionally over the years, I encountered Leonberger dogs and became very fond of them.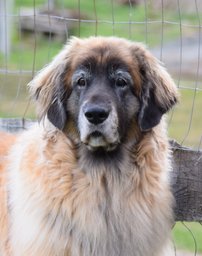 I read about the breed and decided that one day a Leonberger would come in to our lives.
In 2008, it was time for a Leonberger to enter the family and Tora entered our life.Tora lived up to all expectations and more that we had on the breed. With her, the interest in Leonberger dogs became even stronger. We were completely convinced that this is the breed for us. Early summer 2012, we decided it was time for one more Leonberger. This time I wanted a male. We started searching and found kennel Sandiana's who had a 12-week male puppy available.
"Loke" Sandiana's Perfect Day, made an entrance to our lives and with him, I especially have had one absolutely amazing trip. You can read more about that on Lokes page.
In 2015, I felt more and more that it was time for a third leonberger. Robert was not as convinced, he thought it was good enough with two dogs in the family. When I turned 50 in February 2016, I received an amazing gift from Robert. A consent to buying a puppy. The search for the "right" puppy began. I wanted a male puppy with healthy lines and after intensive search all over Europe, a trip to Germany and some bugs on my way, I found Mamili's kennel in Norway, which had two interesting litters. I contacted Liv Gade and after we talked on the phone and met, I was approved to buy a puppy from her. After a couple of visits, I finally decided for a boy who caught my interest a bit extra. His name was Mamili's Zaragon and he was born 2016-04-04. He was absolutely wonderful as a little puppy and become a playful and happy young man, with whom we have great hopes. He conquered his first title, SEVCH and we had much hope for him in the future. Unfortunally when he was a grown up male, he couldn't live with other dogs and we had to find him another family, there he now lives and are doing very well. They love him dearly.
Lite om oss:
Vi heter Ingela och Robert Westphal och är på 50 + strecket. Vi bor på landet i ett litet
samhälle som heter Sandared, strax utanför Borås. Vi har två utflugna barn, Alexandra
och Jack, samt två barnbarn, Saga och Love. Både jag och Robban är uppvuxna med
Schäferhundar, så hundar har funnits i våra liv ända sedan barnsben. Vår första
gemensamma hund köpte vi 1983. Det var en helt underbar Schäfer/Boxer mix vid
namn Faxe. Därefter har vi under åren som gått,haft ett flertal Schäfrar. Jag, Ingela,
var en del på brukshundklubben i Borås och gick olika kurser med våra hundar, men framförallt gick vi långa promenader i skog o mark. När vi så småningom fick barn, så blev det inte så mycket tid över, till mer än härliga skogsrundor under småbarnsåren. Numera är jag BPH testledare, Valpkursinstruktör, handledare i SKK uppfödarutbildning och ledamot i Svenska Leonbergerklubben. Jag viltspårar också en hel del med våra egna hundar och sen åker jag förstås på en hel del utställningar. Främst i Sverige men även litegrann utomlands. Robban är en husse som uppskattar det goda livet med hundarna på hemmaplan mest och tycker inte att det är så roligt att fara på utställningar och andra aktiviteter land och rike runt, så oftast åker jag ensam eller med en kompis.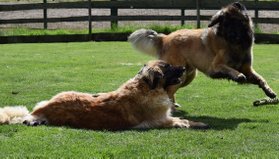 Leonberger:
Då och då genom åren som gick, stötte jag på Leonbergerhundar i olika sammanhang och blev väldigt förtjust i dom. Jag läste på om rasen och bestämde mig för att en dag skulle en Leonberger komma in i vårt liv. År 2008 var det dags för en Leonberger att göra entrè i familjen och Tora kom in i vårt liv. Tora svarade upp mot alla förväntningar och mer därtill som vi hade på rasen. Med henne växte sig intresset för Leonbergern ännu starkare. Vi blev helt övertygade om att detta är rasen för oss. Våren 2012, så bestämde vi att det var dags för ytterligare en Leonberger. Denna gången ville jag ha en hane. Vi började leta och hittade kennel Sandiana's som hade en hanvalp på tolv veckor tillgänglig.
"Loke"Sandiana's Perfect Day gjorde entré i vårt liv och med honom så har framförallt jag, haft en helt fantastisk resa.
Mer om det kan du läsa på Lokes sida.
Under 2015 kände jag mer och mer att det var dags för en tredje leonberger. Robert var inte lika
övertygad, han tyckte att det räckte gott med två hundar i familjen. När jag sedan fyllde 50 år i Februari
2016, fick jag en helt fantastisk present av Robert. Ett medgivande till att köpa en valp. Sökandet efter
den "rätta" valpen tog sin början. Jag ville ha en hanvalp med sunda och friska linjer och efter intensivt
sökande över hela Europa, en resa till Tyskland och en del gupp på vägen, så fann jag Mamili's kennel i
Norge, som hade två intressanta kullar födda med fyra dagars mellanrum. Jag tog kontakt med Liv Gade
och efter att vi pratat i telefon och träffats, blev jag godkänd som valpköpare. Efter ett par besök, så
bestämde jag mig till slut för en kille som fångat mitt intresse lite extra. Han heter Mamili's Zaragon
och är född 2016-04-04. Han var helt underbar som liten valp och blev en väldigt lekfull och glad
unghund. Han erövrade sin första titel, SEVCH och vi hade stora förhoppningar på honom för framtiden
Tyvärr visade det sig, när han blev en vuxen hane, att han inte kunde bo med andra hundar och vi var
tvungna att hitta en ny familj till honom, som han nu bor hos. Det går väldigt bra för honom och han är
högt älskad.