SE VCH Honey Hazelnut Grand Aiveko "Hazze"
Hazze was born at kennel Grand Aiveko 2019-03-26, in a litter of 8 puppies, 4 male and 4 females (skrolla ner för svensk version)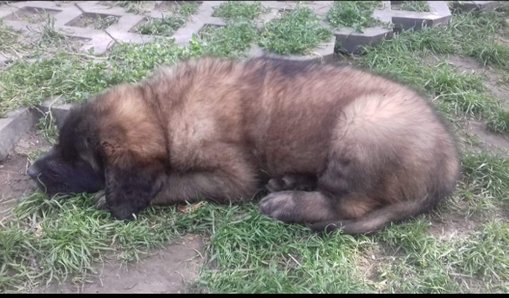 He came to us at around 16 weeks of age from breeder Veronika Koubalova at Grand Aiveko kennel in Prague Czech Republic.
As a puppy, Hazze was a very happy, positive, playful and energetic boy. His favorite things to do was to steal all kind of stuff whenever he got the oppurtunity and then take it outside to chew on them, he also like to go for walks in the woods, swim in the lake and play with toys or with Mango.
He sure was a hand full puppy to have but also a very funny and loving pup. Sure, he sometimes chewed at things that cost a whole lot of money, but that's what the puppy age being about. Actually he still is a very energetic boy always up to something in his mind to do. We have to lock all doors now adays otherwise he open them and steal things he want to play with or chew on. At the same time he is a super sweetheart and it's impossible not to love him.
I began to bloodtrack with him when he was abotut 7 month of age and he really loved it. We had a paus over the winter time and started tracking again in the spring time. Two month later he became a Swedish blood tracking champion at only 14 month of age. Both him and I think it's great fun to track.
It hasn't been so many dog shows yet because of the Corona situation in the world, but we hope it soon will be better times.
In addition to all this with blood tracks and dog shows, Hazze is primarily a highly loved family member. He is a very smart, funny, loving dog to have and a sweetheart with our grandchildren.
SE VCH Honey Hazelnut Grand Aiveko "Hazze"
Hazze föddes på kennel Grand Aiveko 26-03-2020, i en kull med 8 valpar, 4 hanar och 4 tikar
Han kom till oss runt 16 veckors ålder från uppfödaren Veronika Koubalova
på Grand Aiveko kennel i Prag , Tjeckien.
Som valp var Hazze en mycket glad, positiv, lekfull och energisk kille.
Hans favoritsaker att göra var att stjäla alla möjliga saker så fort tillfälle gavs
och ta med dem ut för att tugga på dem. Han tyckte också om att gå på
promenader i skogen, simma i sjön och leka med saker eller med Mango.
Han var verkligen en handfull att ha som valp men också en mycket rolig och
kärleksfull valp. Visst, han tuggade ibland på saker som kostade en massa
pengar, men det är vad valpåldern handlar om. Han är faktiskt fortfarande en
väldigt energisk kille som alltid har något på gång att göra. Vi måste låsa alla
dörrar nu, annars öppnar han dem direkt och stjäl saker han vill leka med eller
tugga på. Samtidigt är han en super go och härlig kille och det är helt omöjlig
att inte älska honom.
Jag började blodspåra med honom när han var 7 månader gammal och han
älskade det verkligen. Vi hade en paus över vintern och började spåra igen på
våren. Två månader senare blev han en svensk viltspårchampion vid bara
14 månaders ålder. Både han och jag tycker att det är jättekul att spåra.
Det har inte varit så många utställningar ännu på grund av
Corona-situationen i världen, men vi hoppas att det snart blir bättre tider.
Utöver allt detta med viltspår och utställningar är Hazze främst en
mycket älskad familjemedlem. Han är en mycket smart, rolig, kärleksfull hund
att ha och helt underbar med våra barnbarn.