C.I.B NORD NO DK SE UCH SE VCH KBHV-15 Sandiana's Perfect Day "LOKE"
Loke was born at Sandiana's kennel 2012-03-17, in a litter of 11 puppies, 7 male and 4 Females (skrolla ner för svensk version)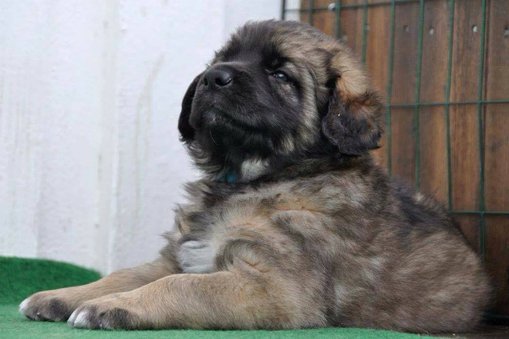 He came to us at 12 weeks of age.
As a puppy, Loke was a very happy, positive and playful boy.
Bathing in the lake and running in the woods was his favorite things to do.
He was a very easy learner and compassionate puppy to have. Sure, he sometimes chewed at things , but that's what the puppy age being about. From the very beginning, he used his sense of smell on our walks very much, compared to any of our previous dogs. He really loved forest walks. I used to say that he appeared like a happy calf on his first day out in the summer pasture.
I began to bloodtracking with him when he was quite small, to satisfy his interest in smells and that was really something. Both him and I thought it was great fun. Eventually we also went to do a quality tracking test and he was approved. He then took 3 straight 1st places in open tracking class and one HP in a two week period and thereby he become a Swedish bloodtracking champion at the age of 18.5 months. He took in total 23, 1st prices in open class and 6th HP.
Loke was also an educated ID-search dog and sometimes we were on search assignments, mainly to look for missing dogs and cats. We only searched for people in training situations.
Before Loke got in to our lives, I'd just shown dogs in dog shows a couple of times in the early 90's. If someone told me, when we bought Loke that I would start going on dog shows all around Sweden and abroad, I'd just laughed and said they were crazy.
But when he was about 4,5 month we went to an unofficial dog show in Falköping and what a day it became ....... Loke won his class 4 - 6 month, became BOB puppy, BIG 1 puppy and finally BIS 2. puppy. This with dog shows was suddenly really fun. We soon went to some more unofficial dog shows and eventually also at national and international shows. It has been excellent results for the most of the times and we have meet so many lovely people and dogs around the ringsides during the years.
Mainly in Sweden, but also some shows abroad and Loke's titels are
C.I.B NORD NO DK SE UCH SEVCH and KBHV-15
In addition to all this with blood tracks and dog shows, Loke was primarily a highly loved family member. He was a very funny, loving dog to have and an absolute sweetheart with our grandchildren. He is deeply missing by us.
C:I:B NORD NO DK SE UCH SEVCH KBHV-15 Sandiana's Perfect Day
Loke är född på Sandiana's kennel 2012-03-17, i en kull på 11 valpar, 7 hanar och 4 tikar.
Han kom till oss 12 veckor gammal. Som valp var Loke en väldigt glad, positiv
och lekfull kille. Bada i sjön och springa i skogen var hans favoritsysselsättning.
Han var en väldigt lättlärd och följsam valp. Visst tuggade han sönder grejor
mellan varven, men det är ju sånt som hör valpåldern till. Redan från början
använde han luktsinnet enormt mycket på promenaderna, jämfört med vad
någon av våra tidigare hundar har gjort. Han verkligen älskade
skogspromenader. Jag brukade säga att han for fram som en kalv på grönbete.
Jag började viltspåra med honom när han var ganska liten, för att tillgodose
hans intresse för dofter och det var verkligen något som vi båda tyckte var
jätteroligt. Så småningom gick vi ett anlagsprov i viltspår och han blev
godkänd med bravur. Han tog sedan 3 raka 1:a pris och ett HP under en två
veckors period och blev därmed Svensk viltspår champion 18,5 mån gammal.
Totalt tog han 23st 1:or i öppenklass och 6st HP.
Loke var även en utbildad ID-sök hund och ibland var vi ute på sökuppdrag.
Främst för att leta efter försvunna hundar och katter. Människor sökte vi bara
på träning.
Innan Loke kom in i vårt liv, så hade jag bara ställt ut hund ett par gånger i
början på 90-talet. Om någon sagt till mig, när vi köpte Loke att jag skulle
börja åka på utställningar land och rike runt, så hade jag bara skrattat och sagt
att dom var tokiga. Men när han var omkring 4,5 månad gammal, ställde jag ut honom på en inoff i Falköping. Och vilken dag det blev....... Loke vann sin klass 4 - 6 mån, blev BIR-valp, BIG 1:a och till slut BIS 2. Det här med utställningar var plötsligt riktigt kul.
Vi åkte snart på några fler inoff och så småning även på nationella och internationella utställningar. Det blev för det mesta fantastiskt bra resultat och vi har lärt känna så många jättetrevliga människor och hundar runt ringarna under åren som gått, främst i Sverige men även en del i våra grannländer.
Lokes titlar är: C.I.B NORD NO DK SE UCH SEVCH och KBHV-15
Förutom allt det här med viltspår och utställningar, så var Loke framförallt en högt älskad familjemedlem. Han var en väldigt rolig hund, med många påhitt och han är helt fantastisk med våra barnbarn.